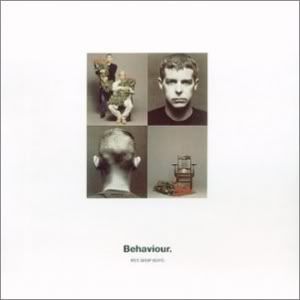 Pet Shop Boys
Behaviour
1990
EMI Capitol (US)/Parlophone (UK)
Anyone who lived through the 80s is likely to remember "West End girls," the smash hit that catapulted the British electro-pop due of Neil Tennant and Chris Lowe, better known as the Pet Shop Boys, to superstardom. As is often the case in the United States however, the Pet Shop Boys did not have lasting success. They had a few more hits, including "What Have I Done To Deserve This?", a duet with Dusty Springfield, and their cover of Elvis Presley's "Always On My Mind" (though the song had been previously made famous through Willie Nelson's cover as well), but they never quite recaptured the American audience. In some ways, it's a testament to how great a song "West End girls" really is that it is what the group will be best known for, and in others it's a shame because their best work had still yet to come.
In 1990, the duo best known for its new wave pop sound and dance songs released that work in the form of Behaviour. I, like most of America, had already moved past the Pet Shop Boys by this time. It wasn't until years later when my older brother and we collectively rediscovered our love for their music that we stumbled upon this lush, beautiful, and introspective album and realized what we had missed out on.

It's always a pleasure to rediscover an artist that you had forgotten how much you loved. We were both Pet Shop Boys fans through their first four records, Please, Disco (more a remix album than an actual work), Actually, and Introspective. Ironically enough, we stopped buying their records right before Behaviour was released. For whatever reason, it wouldn't be until five years after its initial release that we went back and bought the albums we'd missed out on. It was only after listening to this album, in awe as each track that passed seemed better than the one that preceded it, that we both learned to truly appreciate what the duo from England truly were.
Musical geniuses.
That may seem an absurd and lofty term for a group that most people in America know as a one or two-hit wonder, or a cheesy 80s pop/disco band, but it's the truth. Tennant and Lowe, as songwriters, are in the upper echelon of all the songwriting duos you can name throughout music history. Elton John and Bernie Taupin, Lennon and McCartney, Tennant and Lowe. If you don't believe me, you need only listen to Behaviour.
The Pet Shop Boys are much more than a pop band, a new wave band, an electronic or dance act. They're songwriters. Tennant's nasally voice conveys an emotion and an honesty seldom heard in music, and his lyrics display an intelligence that all the combined pop singers working today can't hope to match. The lyrical content of Behaviour is mindblowing. Songs stretch out into territory other artists wouldn't dare to touch.
The album opens with "Being boring." A sad, reflective piece, Neil reminsces about growing up and mourns the loss of friends along the way. A personal favorite of Guns 'n' Roses' lead singer Axl Rose, "Being boring" is one of the epitome of what the Pet Shop Boys truly are. The lush musical arrangement, complete with wah-wah guitar, synthesized strings, and a live harp, are set against a quiet electronic beat. Indeed, the song is so revered as a pop masterpiece, there is an entire website devoted specifically to it. Part of that stems from the lyrics, taken from Neil's own life experiences at parties, and the death of a friend (as a result of AIDS, as he would later admit).
The rest of the songs are just as deep, mature, emotional, and as eclectic in both tone and subject matter. "This must be the place I waited years to leave" catalogs Neil's upbringing at Catholic school. "To face the truth" describes the feeling of knowing that a relationship is over, and the sad refusal to accept it. "How can you expect to be taken seriously?" is a scathing tune about fame and the artists who use it to promote their politics. It is also one of the only uptempo songs on the record.
"Only the wind" describes a couple living a lie - putting on a happy face for the world to see, while their problems build and mount under the surface. "My October symphony" deals with one of Tennant's favorite subject, the Russians, the Russian Revolution, and the fall of communism. How many pop songs can you honestly say you've ever heard that can give you a history lesson while you listen?
The album's lead single, "So hard," is the sole dance track, and even its lyrics run far deeper than you would expect from a dance number, touching upon a relationship of convenience, with both partners lying and betraying each other for their own personal gain. "Nervously" recounts the experience of falling in love, while "The end of the world" depicts a melodramatic teenage lover's spat, where the simple act of not calling your significant other turns into a traumatic experience. The album's closer, "Jealousy," was actually one of the first songs the duo ever wrote (originally under the name "Dead of night"), and it features some of the most poignant lyrics on the subject ever written. More than any song I can ever recall hearing, I have a connection with "Jealousy" because I can relate to it so completely.
If the lyrics weren't varied enough, the music ranges from soft, scaled back ballads, to contemporary rock, pure electronic pop, and the aforementioned dance track. The album is far softer melodic, and laid back than any of the Pet Shop Boys' work before, or since, as a whole. The piano work is particularly astounding, and often being the central instrument in songs like "Only the wind" and "Jealousy". "The end of the world" is shades of early Depeche Mode, while wah-wah guitars, tambourines, and an understated but amazing string arrangement bring "My October symphony" to life. Strings, vocoders, and live guitar create the sound of "This must be the place..." The somber tone compliments the vocals and the bitterly sung words. All throughout, Tennant's voice is strong and fits each song perfectly. From his soft falsetto oohs and ahs during "To face to truth," to the way his voice cracks and shakes during "Only the wind," conveying (intentionally or accidentally) a fading determination to continue living a lie when others can see through it, Neil proves that his voice is anything but monotone.
Behaviour is a drastic departure from what made the Pet Shop Boys famous. It's a risk-taking album. It's a mature album musically and lyrically, to be listened to by mature listeners who seek more complexity in their pop music. It's a masterpiece. It is, quite simply, the greatest pop album ever recorded.