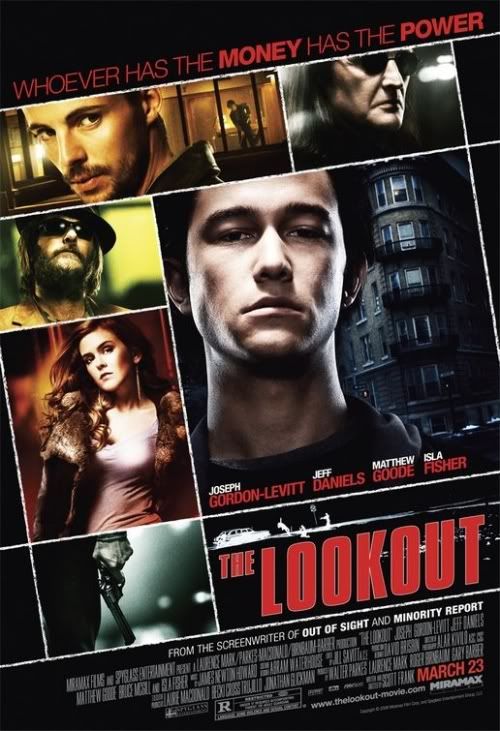 The Lookout
Miramax Films
Rated: R
Joseph Gordon-Levitt is fast becoming one of my favorite actors. I was a huge fan of Rian Johnson's 2005 crime noir film Brick, largely because of Levitt's outstanding performance. While reviewing the new releases on Netflix, my brother came across the description for The Lookout, starring Gordon-Levitt and Jeff Daniels, who I feel is a very underrated dramatic actor. The plot sounded intriguing, so into the queue it went and last night we finally sat down and watched it - and boy am I glad we did.
The Lookout tells the story of Chris Pratt, played by Gordon-Levitt, a promising young hockey player in high school whose life is thrown into turmoil after a horrific car accident he is responsible for.
Pratt is left with brain damage that leaves him unable to properly sequence events in his life, even basic actions such as opening a can of food, and he often forgets simple details like removing his car keys from the ignition. Despite this, he manages to get a steady job as a janitor at a local bank, where he hopes to become a teller. He lives with Lewis, played marvelously by Daniels, a friend from the center where Chris goes for rehabilitation from his accident. Crippled by blindness, Lewis is one of Chris' only friends and he attempt to help him work on his memory problems. In spite of his affliction, Lewis looks after Chris just as much as Chris looks after him.
When Chris meets Gary Spargo (Matthew Goode) at a bar one night, he becomes wrapped up in a plot to rob a bank - the same bank he works for. Spargo entices Chris with the promise that whoever holds the money, holds the power, and Chris gets drawn in.