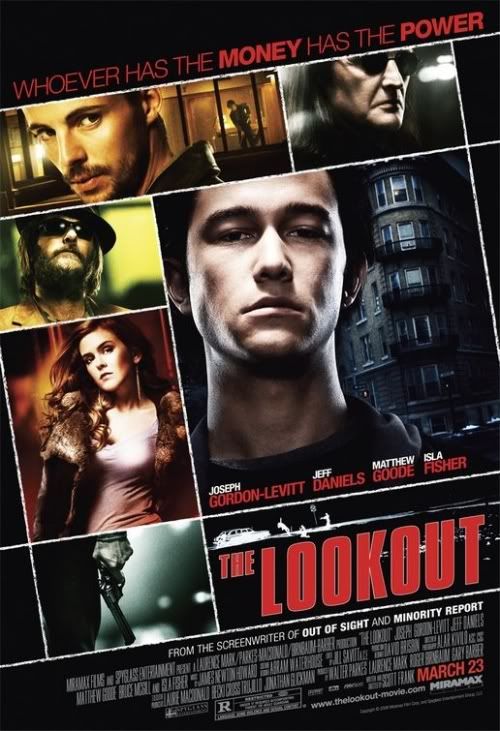 The Lookout
Miramax Films
Rated: R
Joseph Gordon-Levitt is fast becoming one of my favorite actors. I was a huge fan of Rian Johnson's 2005 crime noir film Brick, largely because of Levitt's outstanding performance. While reviewing the new releases on Netflix, my brother came across the description for The Lookout, starring Gordon-Levitt and Jeff Daniels, who I feel is a very underrated dramatic actor. The plot sounded intriguing, so into the queue it went and last night we finally sat down and watched it - and boy am I glad we did.
The Lookout tells the story of Chris Pratt, played by Gordon-Levitt, a promising young hockey player in high school whose life is thrown into turmoil after a horrific car accident he is responsible for.
Pratt is left with brain damage that leaves him unable to properly sequence events in his life, even basic actions such as opening a can of food, and he often forgets simple details like removing his car keys from the ignition. Despite this, he manages to get a steady job as a janitor at a local bank, where he hopes to become a teller. He lives with Lewis, played marvelously by Daniels, a friend from the center where Chris goes for rehabilitation from his accident. Crippled by blindness, Lewis is one of Chris' only friends and he attempt to help him work on his memory problems. In spite of his affliction, Lewis looks after Chris just as much as Chris looks after him.
When Chris meets Gary Spargo (Matthew Goode) at a bar one night, he becomes wrapped up in a plot to rob a bank - the same bank he works for. Spargo entices Chris with the promise that whoever holds the money, holds the power, and Chris gets drawn in.
The film's plot is somewhat reminiscent of Memento inasmuch as the fact that the main character has a damaged memory, but to call the film a mere clone or knock off would be doing it a disservice. Make no mistake, Memento is one of my favorite films and to compare The Lookout to it is praise enough indeed, but while they do share some similar qualities, they are not the same film.
At its heart, The Lookout is more of a character study than a heist movie. In fact, the actual heist itself doesn't occur until very late in the film and runs all of about 10 minutes, if that. The film is more about Chris and his desire to return to his old life. It's easy to feel sorry for him, even though he is responsible for what happened to him, and it's also easy to understand why he could be so easily enticed by the slick-talking Spargo. Though Lewis may lack his physical ability to see, he realizes something is wrong when an attractive young former erotic dancer named Luvlee (Isla Fisher) begins hanging around Chris. As a result of his accident, Chris and his family have an uneasy relationship and Chris sees the heist as a means of proving he is capable of anything.
What makes the film work are the excellent performances from Daniels, Goode, and especially Gordon-Levitt. All three are outstanding in their respective roles. Though Daniels does provide some comic relief with his sarcastic humor, there is one particular scene in the film where his concern for Chris and his well-being is put on display via a late night discussion with Luvlee, and Daniels pulls off all the dialog with a genuine feeling.
Goode is brilliant as Gary Spargo. His laid back, cool voice and charming personality make him easy to like at first, even though you can sense there is clearly something about him that is not on the up and up. There's an air of menace to his character, and when it comes time to let his darker side out, that same calm, cool, collected voice becomes intimidating.
Most of all, it's Gordon-Levitt's performance as Chris that is most worthy of praise. He already showed his acting chops in Brick, but the fast-moving dialog and noir nature of that film didn't leave much room for emotion. Here we get to see his range, whether it's Chris happily joking with Lewis, frustrated by his own disabilities, or fearful of Spargo and his crew, Gordon-Levitt plays it all perfectly. You can sense his apprehension when he hears about the heist, and there's a moment afterwards when some memories come flooding back that is particularly powerful.
Though it's his directorial debut, Scott Frank (who also wrote the screenplay) handles the duties fairly well. It's not a visually stunning film, but it's well done. There's a definite sense that you're in different worlds between the seedy house that Spargo and his crew reside at, Chris and Lewis' meager, but suitable, apartment, and the large mansion Chris' well-off family live in.
What is remarkable is the film's score, composed by veteran composer James Newton Howard. This time featuring a mixture of orchestration and electric guitars, not unlike much of Craig Armstrong's work, Howard's scores never cease to impress me. His work on The Village was truly outstanding, as are his pieces for this film.
The film does have a few problems. The ending strays into slightly typical Hollywood territory, though it by no means ruins the film or is wholly unbelievable. It seems like the story loses focus near the end as well and it becomes something of a vigilante picture for a short while as well, but on the whole, it's a largely entertaining and engrossing film with fantastic performances all around.
Though it may not win any awards, The Lookout is definitely worth your time if you love character-driven thrillers. Just don't go in expecting a typical heist movie, because that's not what you're going to get.