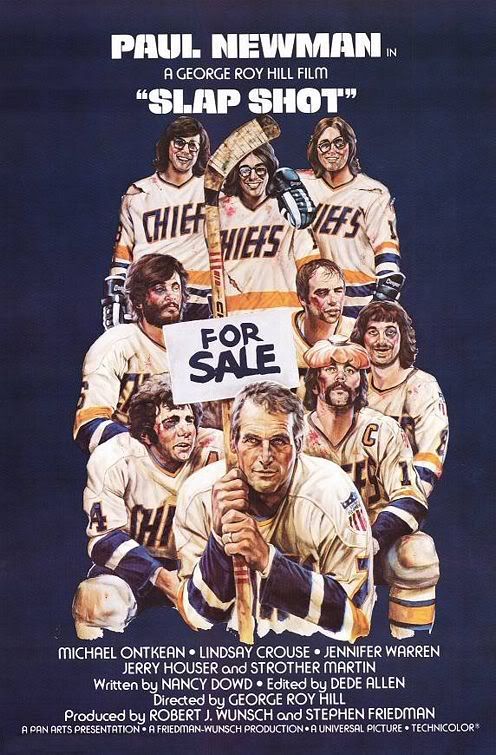 Slap Shot
Universal Pictures/King's Road Entertainment
Rated: R
123 Minutes
1977
Author's Note: I dedicate this post to the memory of Paul Newman (January 26, 1925 - September 26, 2008), one of the most legendary actors of any generation as well as a respectable, charitable, generous human being.  You will be missed.
If you have ever watched an NHL hockey broadcast on television, you are familiar with George Roy Hill's cult classic comedy Slap Shot whether you know it or not.  If you have ever heard an announcer or commentator utter the word "Scouts?", you've just heard reference to Coach Reggie Dunlop (Paul Newman) upon discovering that his Charlestown Chiefs, a member of the fictional Federal League, were being watched by professional scouts, causing him and his team to cast sportsmanship aside in favor of brutal violence for entertainment's sake.
Slap Shot is undoubtedly one of the best sports comedies of all time, although you could drop the distinction and simply call it one of the funniest films ever - period.  It is referenced in every hockey league, in every team's locker room, on nearly every TV broadcast, and in the stands by avid hockey fans for both its comedy and its authenticity.  It's a laugh riot, but it still has heart, and is a genuine, realistic look at the trials of minor league hockey.  As someone who has been watching and attending various minor professional and junior hockey leagues for over fifteen years now, I can tell you that part of what makes Slap Shot so hysterical is that so much of it is actually true.